The Top 10 Luis Suarez Biting Memes
I have been grumpy all day after watching Luis Suarez assault yet another player. It isn't the incident that is upsetting, but knowing that it caused a good Italy side to lose focus and leave the tournament, and feeling the FIFA will not take the appropriate action.
So to make myself feel better I found the 10 best Luis Suarez biting memes. Enjoy and
with your friends if you like them!
10. This Cartoon
— Rasix (@r4six) June 24, 2014
9. Opponent Jersey
Best Memes after Luis Suarez has in-game snack in #URU vs. #ITA #BanSuarez #biting #cannibal http://t.co/xEJlggQyyu pic.twitter.com/c452YCZS4D

— Bleacher Report UK (@br_uk) June 24, 2014
8. Hannibal Suarez
@VitaPedroESPN @DIESESTRADA @ESPN_JorgeRamos @delvalle_ESPN @MASANTI_ESPN que bárbaro este hombre ojalá lo castiguen pic.twitter.com/uLuIRp1xeB

— Josué Mayorga (@josuemayorga) June 24, 2014
7. Jaws 3
This summer, he's done it again. Third time's the chomp. #URU pic.twitter.com/Jv6HQRxUn7

— KICKTV (@KICKTV) June 24, 2014
6. Dog Collar
5. Suajaws
Or this one @IanJamesPoulter pic.twitter.com/dWE62VbRXx

— Thomas Bridgewater (@Hot_Tubby) June 24, 2014
4. Some guy who bet that Suarez would bite someone and Winning 540 quid: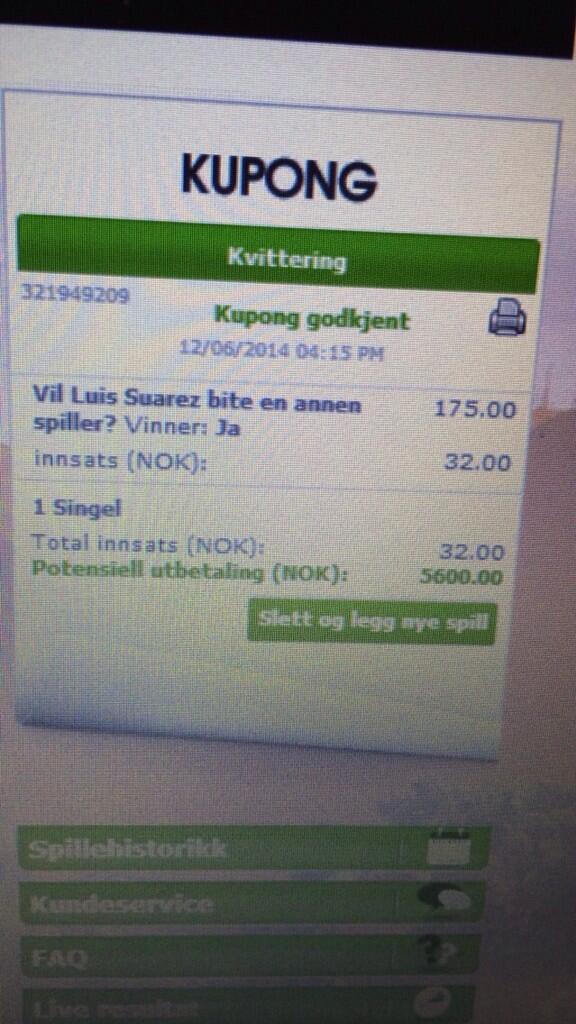 3. Walking Dead
This seems appropriate #WorldCup pic.twitter.com/d9Ofh5cWZh

— My Party Story (@DrunkyStory) June 24, 2014
2. FIFA's Bite-Line Technology
1. Chiellini Card
We've seen some great Luis #Suarez images doing the rounds! Here's one of our favourites. http://t.co/4A0MElzfxt | Send yours through!

— SportsFan (@sportsfan_live) June 25, 2014